Therapists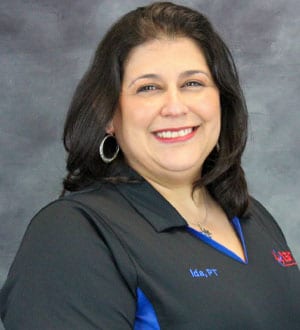 Ida G. Gutierrez, PT, MPT
is a native Laredoan. She graduated from Nixon High School in 1991 and graduated from Laredo Junior College in 1993 with an Associates in Arts. During high school she played basketball, track, and karate. She graduated from Texas Tech University Health Sciences Center Physical Therapy Program in 1997. She returned to Laredo to give back to the community with the knowledge and experience she gained while in college. As a teenager, she was inspired by her aunt, who has Cerebral Palsy. She went with her aunt to her aquatic session and was amazed at the positive impact it had on her physical ability, demeanor, and her attitude. Ever since then she wanted to help someone achieve the same feeling.
She loves to organize, coach, participate in her children's sports teams, as well as being involved her church community. She has a deep routed connection to the Laredo community due to a strong family unit, especially through a community of martial arts at Rick Guerra's Academy of Martial Arts. She has worked in numerous settings including hospital acute care, outpatient, skilled nursing units, wound care, sports and work injuries, pediatrics and home health. Ida enjoys spending time with her family and friends, coaching her children's sports teams, teaching karate and aerobic kickboxing, and recreational walking.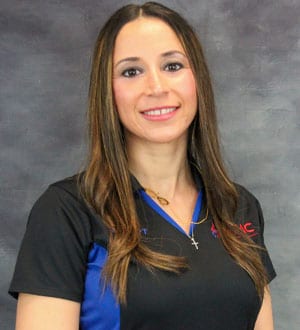 Dinora Flores PT
was raised in Laredo Texas and returned to her hometown to fulfill a life long dream of practicing Physical Therapy. She has been with LSMC and Power PT for over two years. When not at the clinic, Dinorah enjoys spending time with family and friends. She is also an avid sports enthusiast.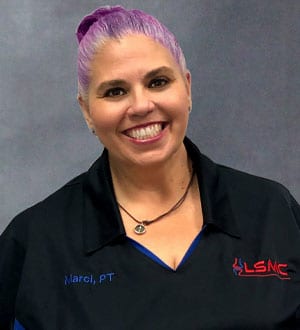 Marizel (Marci) Diaz, PT
Was born in Miami Florida. She graduated first as a P.T.A. from Miami Dade Community College in 1988, then as a P.T. from Florida International University in 1990. She came to Laredo in 1996 and has called it home since.
In her 32+ years of practice, Marci has worked in a variety of settings like acute Hospitals, Both in & out patient rehabilitation centers, and home health, as a result, she has acquired experience and knowledge in the field by working with a variety of types of patients including orthopedic, neurological, work-related injuries, amputations, spinal cord injuries, sports injuries, and pediatric conditions.
In addition, Marci was also the director for the P.T.A program at Laredo Community College for 6 years where she helped in training students for a career in physical therapy. She loved teaching so much, she continues to teach a section of the rehabilitation course as adjunct faculty every year.
Marci has been a member of the LSMC team since 2017. She considers it a privilege to be able to serve God & our community by helping Laredoans improve the quality of their and health, and ultimately "back in the game".
Outside of LSMC, Marci love spending time with her sons, family and friends, serving at her church, and cheering in her beloved San Antonio Sours.