Physicians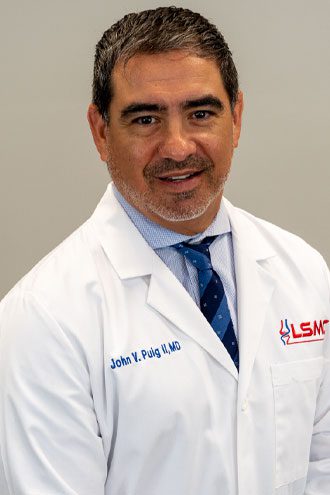 John V. Puig II, M.D.
is a Family Medicine Physician specializing in Sports Medicine. He was born and raised in Laredo. He graduated from United High School, where he played various sports. His hobbies include, golf, football, weight lifting, owning and caring for aquarium saltwater fish. He maintains an interest in all types of sports and a desire to assist in the care and well-being of all the athletes associated with these sports. Since graduating from the University of Texas Health Science in San Antonio, he has been committed to Laredo and is serving the community as a health care provider.
He is Board Certified for both Family Medicine and Sports Medicine. He is the proprietor of Laredo sports Medicine Clinic as well as the Team Physician for most athletic organizations from the high school level to the pros. He has dedicated his life to the treatment of sports related injuries and is always on the cutting edge of medicine. His sports medicine training and experiences coupled with his continued interest in the city of Laredo qualify him as an excellent Sports Medicine Doctor.
Diplomat American Board of Family Practice
Board Certified Sports Medicine Specialist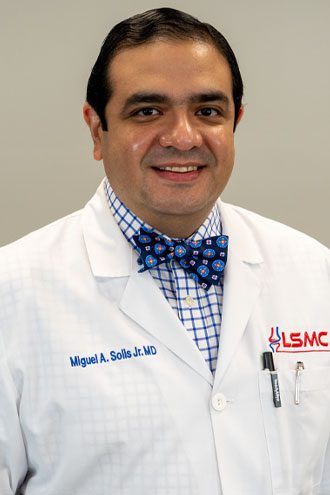 Miguel A. Solis Jr., M.D.
graduated from Martin High School where he played in the Mighty Tiger band. He obtained his medical degree from the Universidad de Monterrey and completed his Family Medicine residency at the University of Texas Health Science Center at Houston. He continued on as an assistant professor at UTHSC Houston. Dr. Solis completed his Sports Medicine fellowship at the University of Missouri Kansas City and returned to Laredo to serve his hometown. He is part owner of Laredo Medicine Clinic as well as the Team Physician for most athletic organizations from the high school level to the pros.
Certified by the American Board of Family Medicine
Certificate of Added Qualifications in Sports Medicine by the American Board of Family Medicine
Texas Medical License
Missouri Medical License
Advanced Cardiac Life Support
ECFMG Certification
Mexican Medical License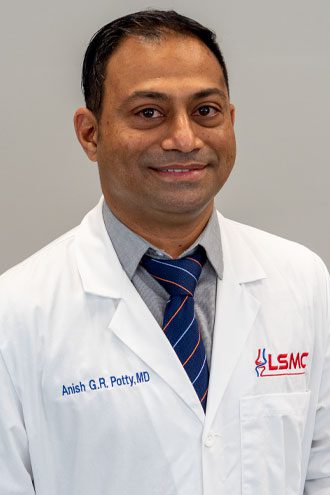 Anish G. R. Potty, MD
Born and raised in Pandalam, India, Dr. Potty is an Orthopaedic Surgeon that has completed multiple fellowships under the guidance of world experts in pioneer orthopedic institutes. Dr. Potty participates in sports such as squash, cricket, and golf. He also enjoys practicing yoga to stay fit and traveling to learn about other civilizations.
In 2001, he received his Bachelor of Medicine, Bachelor of Surgery (MBBS) from the Armed Forces Medical College in Pune, India. After practicing plastic surgery for some time, he decided he needed more of a challenge. He found that challenge in orthopaedics. When asked why he chose to pursue orthopaedic surgery, he stated, "I always knew I could fix bones. I enjoy feeling the adrenaline that each case gives me in the operating room and the satisfaction of a great surgical outcome." Specializing in pediatric orthopaedics and sports medicine, Dr. Potty is ready and excited to provide optimal surgical results for the Laredo community.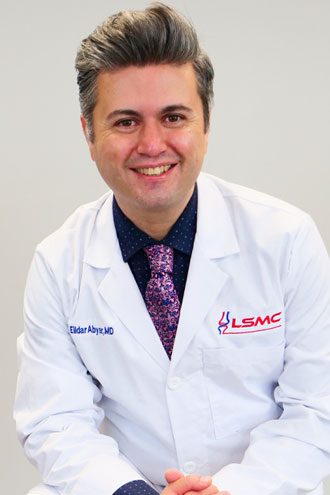 Eildar Abyar, MD
Dr. Abyar is an orthopedic sports medicine and foot and ankle surgeon at Laredo Sports Medicine Clinic. Dr. Abyar's other fields of expertise include trauma, joint replacement and hand surgeries. Over the past several years, Dr. Abyar has focused his practice on the new frontier of joint preservation, cartilage transplantation, orthobiologics and stem cell injections. As an expert in cartilage restoration, Dr. Abyar lectures both nationally and internationally and participates in several ongoing articular cartilage meetings.
Following his dream since childhood of becoming a sports medicine doctor, Dr. Abyar attended medical school at Shahid Beheshti Medical University in Tehran and completed his orthopedic residencies at Lille Medical School in France and at Liege University in Belgium.
Since then, Dr. Abyar has completed two prestigious orthopedic sports medicine fellowships at University of South Florida (Tampa) and at OrthoIndy (Indianapolis) and went on to obtain an AOFAS foot and ankle surgery fellowship at University of Alabama at Birmingham (UAB). During this time, he served as team physician for several professional, college and high school sports teams including the Tampa Bay Buccaneers, University of South Florida's football and basketball teams, Indiana Indians Baseball team, PGA Golf Tour, the Indiana Pacers and the Indiana Fevers basketball teams, among others. Complementing his hands-on experience working with sports teams, his work as clinical faculty at UAB University Hospital Level 1 Trauma Center has given him invaluable experience in every type of traumatic orthopedic injury as well as foot and ankle reconstruction procedures. In addition, he served as UAB teaching faculty for orthopedic residents and medical students.
Dr Abyar is an active member of the American Academy of Orthopedic Surgeons, American Orthopedic Society of Sports Medicine, American Orthopedic Foot and Ankle Society and Arthroscopy Association of North America and other professional societies. Dr. Abyar is an avid academic researcher and serves as an associate editor for multiple orthopedic journals in the fields of sports medicine and foot and ankle surgery. His scientific research has been peer-reviewed and published widely as have the numerous articles and book chapters he has authored, including for orthopedics textbooks.
A daily runner and cross-fit athlete, Dr. Abyar also enjoys playing tennis and spending time with his wife, Ellie, and young son. He finds it personally and professionally fulfilling to develop strong, interactive relationships with patients, the challenge of immediate diagnosis and determining treatment plans for athletes. His goal is to provide patients with the best, most advanced care and treatment available, allowing them to remain active and pursue healthy lifestyles. Dr. Abyar considers every patient as family – como de la familia. He is looking forward to improving his Spanish and is thrilled to bring his experience and joy of sports medicine to Laredo Sports Medicine Clinic and to the greater Laredo community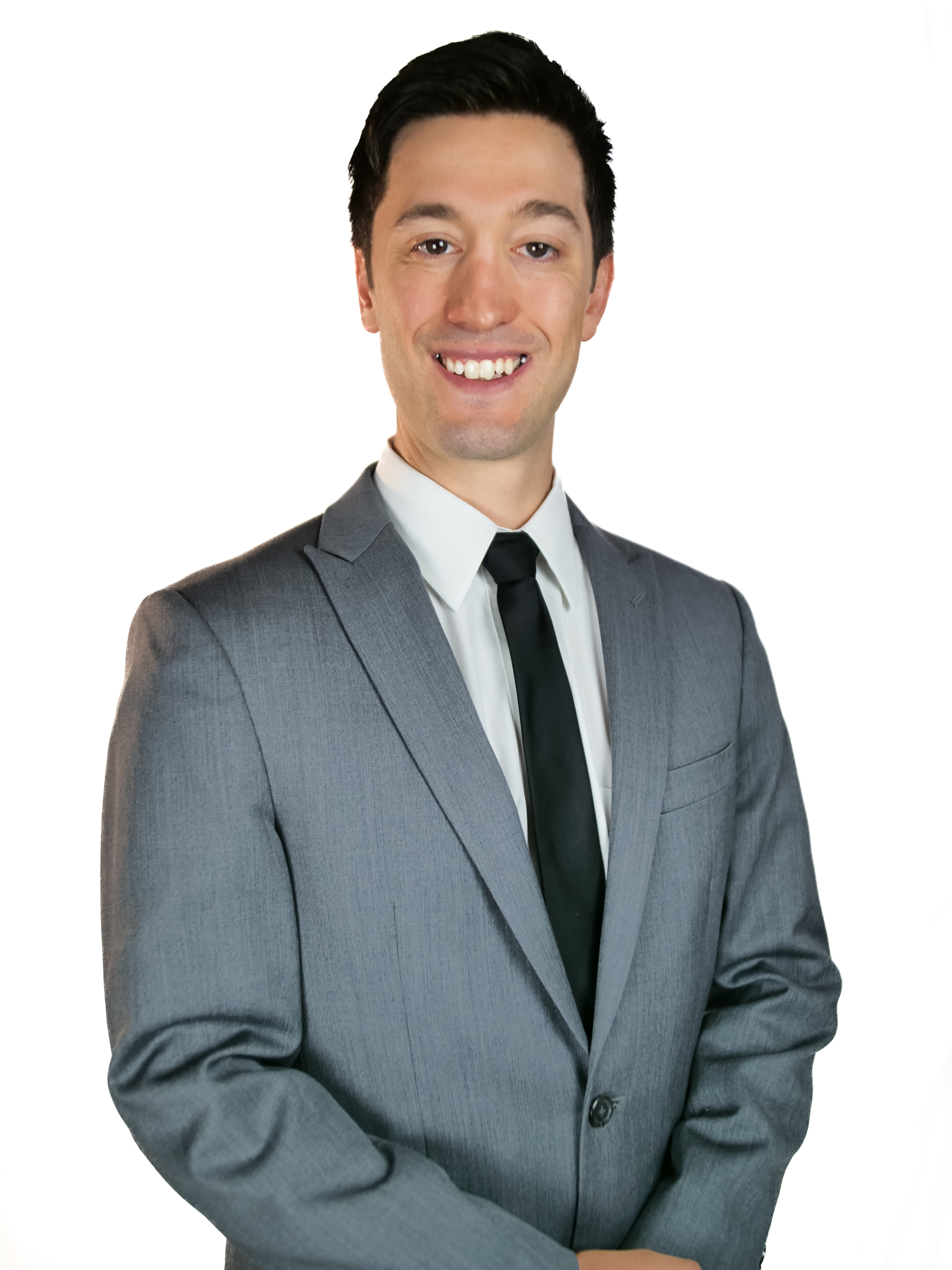 Armando Gonzalez, MD
Dr. Gonzalez was born and raised in Laredo, Texas, he is a board-certified Sports Medicine, and Family Physician. He graduated from Jonh B. Alexander High School in 2006, during his high school years, he competed at an international level in karate having won tournaments at the state, national, and world level; along with karate he also competed as an amateur boxer. For his accomplishments, he was inducted into the International Latin Sports Hall of Fame in 2009. He graduated from Texas A&M University with a degree in biology, followed by obtaining his M.D. from the American University of the Caribbean in St. Maarten. He completed a Family Medicine residency at Reading Hospital, in Reading, Pennsylvania. During this time, he too developed a keen interest in pursuing a career in Sports Medicine.
He then completed a fellowship at the world-renowned University of Pittsburgh Medical Center. He was the team physician for the University of Pittsburgh Panthers football team. He also provided coverage for other Division I Athletics at the University of Pittsburgh. He also was on the medical advisory board for the Pittsburgh Marathon and worked with the Pittsburgh Ballet Theatre.
Dr. Gonzalez always wanted to return to Laredo to provide care for the community that he cares so much about. He currently focuses on practicing cutting edge diagnostic and ultrasound orthopedic procedures. He is performing minimally invasive carpal tunnel release procedures, which have an average return to work of 3-5 days and full use of the hand after the procedure. He is also performing minimally invasive procedures for issues related to tennis elbow, golfer's elbow, rotator cuff, and the Achilles tendon. He also has a keen interest in regenerative medicine to help weak damaged tissue build into strong normal healthy tissue.
In his spare time, you can find Dr. Gonzalez practicing jiu jitsu and boxing, living the South Texas lifestyle of being at the ranch, fishing, and hunting. He also has a goal of eventually breaking 100 in golf. He enjoys tending to his garden, reading, and cooking.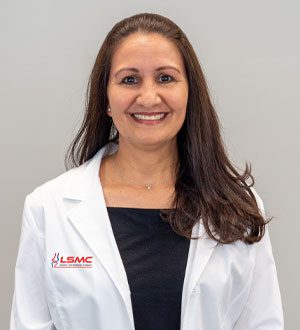 Irene Esparza, PA-C
Irene Esparza was born and raised in Laredo, TX where she played volleyball, basketball, track, and softball during her high school years. She graduated from Laredo Junior College in 1990 and received her Bachelors in Biology from the University of Texas at Austin in 1992. She later received her Master's in Education Administration from Texas A&M University at Kingsville in 2003 and received her second Master's in Physician Assistant Studies from the University of Texas Health Science Center at San Antonio in 2008. She has always been interested in the medical field due to the shortage of medical doctors in Laredo. An opportunity surfaced after 13 years of teaching science and coaching volleyball. She is fortunate to be able to combine the two. She loves helping the community by sharing her skills that includes volunteer coaching. Her training and knowledge help get the injured athletes back on the field or court to represent their school.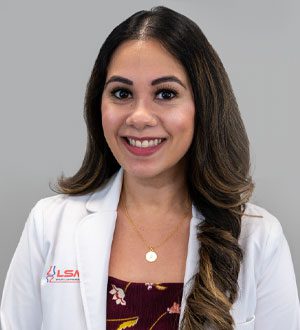 Alexa Medrano, PA-C
Was born and raised in Eagle Pass, TX where she was a cheerleader during her high school years. She graduated from Eagle Pass High School and received her Bachelors in Biology from the University of the Incarnate Word. She later received her Masters in Physician Assistant Studies from the University of Texas Health Science Center in San Antonio. She is board certified by the NCCPA and a member of the American Academy of Physician Assistants and Texas Academy of Physician Assistants. Whether you are a devoted athlete or a weekend warrior, Alexa looks forward to assisting you with your recovery and getting you back in the game!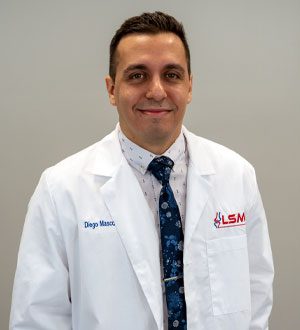 Diego Mascorro PA-C
Diego Mascorro was born and raised in Laredo, TX. He graduated from Alexander High School, where he played in multiple sports such as cross- country, basketball, baseball, and also competed in AAU as a decathlete and javelin thrower.  He graduated at Texas A&M International University and received a Bachelors of Science in Biology in 2012. He then proceeded to further his education and obtained a Masters in Physician Assistant Studies from the University of Texas Rio Grande Valley in 2015 with the intent of returning to his hometown to serve the Laredo community.  Diego is committed to serving his community by providing quality care to optimize recovery.